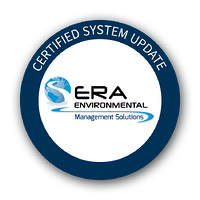 ERA Environmental's regulatory research team ensures that your ERA-EMS is always up to date with with regulatory changes. Every month we'll publish any updates here. It's part of our commitment to excellent customer service, environmental reporting expertise, and protecting your business. Have any questions about these updates? Let us know at info@era-ehs.com.
March Updates
NPRI (National Pollutant Release Inventory)
Environment Canada implemented the following changes for the 2014 NPRI reporting year. It has proposed the following changes:
Eight substance and toxic categories have been moved from Part 1,Group A to Part 1, Group B. The mass threshold for these substances has been reduced from 10 tonnes, and, in some cases, the concentration threshold has been reduced from 1%. As for Quinoline (CAS 91-22-5), the 10 tonne mass threshold has been reduced to 50 kilograms for total polycyclic aromatic hydrocarbons, including quinoline, and 5 kilograms for reporting quinoline itself.

To add one substance to Part 1A.

To add two substances to Part 1B.

To remove five substances from Part 1A.
New NPRI Reporting Thresholds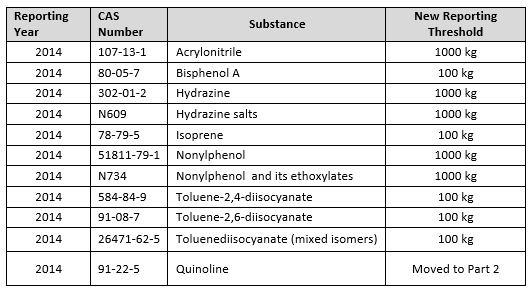 Additions to Part 1A and 1B

Removal of substances from Part 1A

Non-Domestic Substance List (NDSL)
The following chemicals were removed from the NDSL according to publications in the Canadian Gazette.

Domestic Substances List (DSL)
The following chemicals were added to the DSL according to publications in the Canadian Gazette.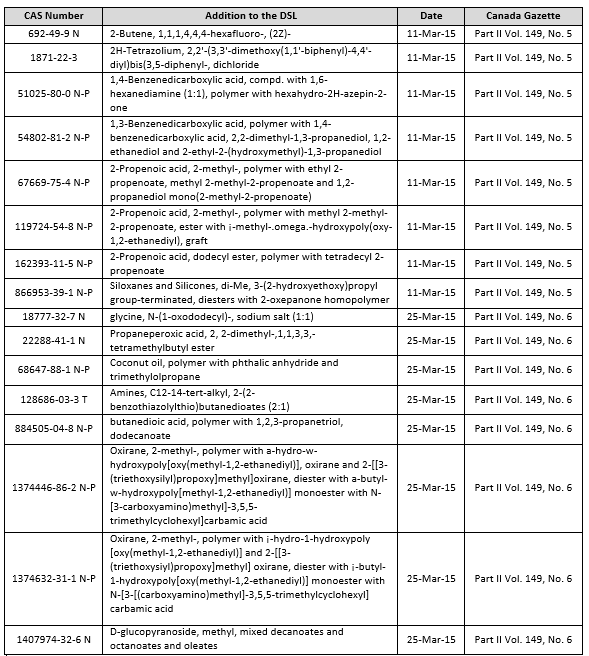 Significant New Activity (SNAc) Regulation
CAS 544708-22-7 was added to the SNAc regulation as per SNAc notice no. 17909, published March 14th, 2015 in the Canadian Gazette (Part 1 Vol. 149, No. 11).
Your ERA-EMS and reporting functions have already been updated to reflect these changes.