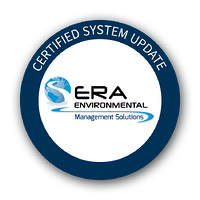 Software Updates for January 2018
ERA Environmental is committed to providing your business with EH&S software that lasts a lifetime. Our team of researchers and scientists work every day to roll out upgrades, new reports, and improvements. Every month we'll publish a summary of these new features here for you. Have any questions about these updates? Let us know at info@era-ehs.com.
BPM

To avoid accidental editing

, users sometimes need to lock completed BPs. This can now be done by hiding the Edit Button for completed BPs at the Template level.

Until the parameter conditions in the Template are met, BPM Alerts can be sent based upon the reminder either once or multiple times.
CERTIS - MCL

Thai Characters have been added to the standard Characters in the MCL: We are able to upload and keep track of the regulations in Thai (Thailand)
Tier II
Adding a processing option for Tier II to account for all chemicals, or chemicals above the de minimis.
Training
Attached documents on the Grades and Training events will appear in the View training events per employee.
Universal Import

Added universal usage groups, where the user can define and import multiple group sources from different modules into a singular usage group.
Added Detail 2 tab to universal imports, where the user has the capabillity of setting conditions on the import based on a tag in the data.
Vendor

Allowing the user to use the Revision of the product rather than the batch date in CERTIS and Invoices pages.
Waste

In offsite group details, the "Days to Expiration" field now defaults and displays 90 days
Regulatory Updates for January 2018
Canadian Domestic Substance List (DSL)
The Domestic Substance List has been amended by adding the following chemicals: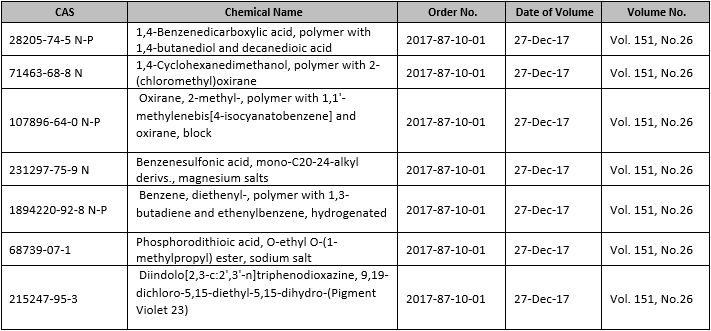 Canadian Non Domestic Substance List (NDSL)
The Non Domestic Substance List has been amended by removing the following chemicals:

California – Proposition 65
The Office of Environmental Health Hazard Assessment (OEHHA) has added the below listed chemicals to the list of chemicals known to the state to cause cancer for the purposes of the Safe Drinking Water and Toxic Enforcement Act of 1986.

Your ERA-EMS and reporting functions have already been updated to reflect these changes.