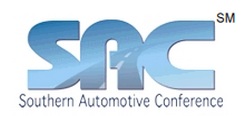 Some of our ERA team members recently managed to spend some time at the Southern Automotive Conference (SAC) held in Huntsville, Alabama and came back with some fantastic results.
The conference, hosted by the Alabama Automotive Manufacturers Association and the General Manager of Toyota's Huntsville Engine Facility, Mark-Brazeal, brought together automotive industry executives and their suppliers.
The two-day conference included sessions on Lean Manufacturing, Employee Engagement, and issues related to corporate sustainability programs. The knowledgeable speakers shared this year's successes and missteps at their facilities. ERA Environmental had the opportunity to meet with some of the largest automotive companies across North America and share with them our vision for how environmental management software will play a huge role in the success of their manufacturing.
As Governor Robert Bentley noted in his speech, the automotive manufacturing industry is vital to the economy of the South Eastern States. Huntsville has a long history of engine production, including the massive Saturn V Rocket Engine now housed at the Space & Rocket Museum. Many attendees were also surprised to learn that the Huntsville Engine Facility is the only facility in the world that produces 4, 6, and 8 cylinder engines under the same roof.
Our team's jounrey at the SAC wrapped up by attending a tour of the Huntsville Navistar Engine Facility. This facility consists of two engine plants: Navistar Diesel of Alabama, LLC and Navistar Big Bore Diesels, LLC. Ths Navistar Huntsville site produces a range of engines, from Navistar's MaxxForce5 to the MaxxForce 10 diesel engines for various international truck, bus, defense vehicles, and OEM applications.
The next Southern Automotive Conference was announced and will be held in Chattanooga, Tennessee, the home of Volkswagen Group of America on October 11 & 12, 2012.
Look for ERA Environmental Management Solutions to be revving things up there next year!