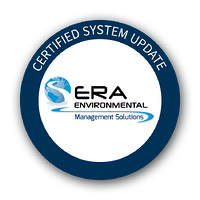 Software Updates for April 2018
ERA Environmental is committed to providing your business with EH&S software that lasts a lifetime. Our team of researchers and scientists work every day to roll out upgrades, new reports, and improvements. Every month we'll publish a summary of these new features here for you. Have any questions about these updates? Let us know at info@era-ehs.com.

CERTIS - MCL

The Russian alphabet has been added as standard characters in the MCL. We are now able to upload and keep track of regulations in Russian (Russia).
CERTIS - SDS Authoring
Translations added to the "Flammability" Drop-down list.
Added the ability to add a category and phrase for the Emergency Phone Number in Section 1 of the SDS.
Compliance
Mandatory items in setup are marked with an asterisk(*).
Added better warning messages for future occurrences.
Daily items now have the option to include/omit weekends.
Incidents/Near Miss
New multi-calendar datatype allows for easier selection of Days away and Lost time.
NEI
Kansas NEI Import - New SLEIS import to automate reporting for Kansas Emissions Inventory
Software Admin (Users, Groups)
In Users New UI page, the e-mail validation has improved to ensure both "@" and "." are present in e-mail addresses.
Sustainability
New Commuting Form - Can now calculate the co2 emitted from commuting.
Regulatory Updates for March 2018
CANADA – FEDERAL
Non Domestic Substance List (NDSL)
The Non Domestic Substance List has been amended by removing the following chemicals:

Domestic Substance List (DSL)
The Domestic Substance List has been amended by adding the following chemicals: