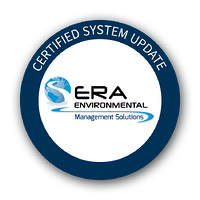 Software Updates for October 2017
ERA Environmental is committed to providing your business with EH&S software that lasts a lifetime. Our team of researchers and scientists work every day to roll out upgrades, new reports, and improvements. Every month we'll publish a summary of these new features here for you. Have any questions about these updates? Let us know at info@era-ehs.com.

Incidents/Near Miss
Exported information from the main grid has been upgraded to display the status of the employee at the time of the incident, not the time of report generation.
Tier II
Added the ability to compile a history of all contributing line items to each reportable chemical.
Software Admin
When creating a new user, the software will now give a warning if the user ID already exists in another database.
Regulatory Updates for October 2017
Canadian Domestic Substance List (DSL)
The Domestic Substance List has been amended by adding the following chemicals:

Non Domestic Substance List (NDSL)
The Non Domestic Substance List has been amended by removing the following chemical:

Your ERA-EMS and reporting functions have already been updated to reflect these changes.