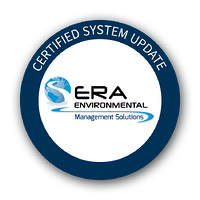 Software Updates for November 2017
ERA Environmental is committed to providing your business with EH&S software that lasts a lifetime. Our team of researchers and scientists work every day to roll out upgrades, new reports, and improvements. Every month we'll publish a summary of these new features here for you. Have any questions about these updates? Let us know at info@era-ehs.com.
CERTIS - SDS Authoring

In the report M011, when the parameter is selected at the template level, the system will now automatically add ATE values for the mixture under the "Acute Toxicity" of section 11. French and Spanish translations are now also available
TRI
New option added to calculate future projects with a different percentage for each projected year (previously, the same calculation was applied to both years).
New option added, which displays the sources at a facility which do not have a TRI ID, and therefore would not have been included.
When a user processes a TRI, all selected sources are now saved with the project and then preselected if the project would need to be processed again.
Waste
Added the option to copy Transporter questions that save a BL object in the "transporter details" tab in the Old UI. Whenever copying the transporter question, all transporters will be saved in the details tab in the Old UI for the same waste stream.
Added the ability to filter waste streams correctly.
Incidents/Near Miss
User is provided with a new way of calculating "numbers of days away" using a calendar view.
CERTIS - Labels
Added a new custom WHMIS transportation label, which is a 8.5 x 14 label for transportation, with the option to duplicate the GHS data if not regulated for transport.
CERTIS - Transportation
The transportation tab now includes all GHS hazards in its assessment of transportation hazard classes.
Chemical Coating
In the reports F175X and F176X, a new option is added to enable/disable scientific notations on the report output.
TIER II
Added the option to display "details by product" for chemicals in Tier II Project Details.
Now provides an excel output of all Storage Locations, and Container Information of all chemicals for each Tier II Project generated.
If a TIER II is processed with a chemical coming from two different departments with different thresholds, the system now should display the lower value to assume worst case scenario.
Software Admin
If a user ID already exists in another database, when attempting to save the user account, a warning message will now generate.
Universal Import
Added a new capability to import data to cost centers in the finishing and inventory modules.
CERTIS - MCL
Chinese Characters have been added to the standard characters in the MCL
Regulatory Updates for November 2017
Canadian Domestic Substance List (DSL)
The Domestic Substance List has been amended by adding the following chemicals:

Your ERA-EMS and reporting functions have already been updated to reflect these changes.