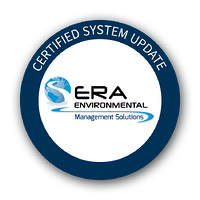 Software Updates for May 2017
ERA Environmental is committed to providing your business with EH&S software that lasts a lifetime. Our team of researchers and scientists work every day to roll out upgrades, new reports, and improvements. Every month we'll publish a summary of these new features here for you. Have any questions about these updates? Let us know at info@era-ehs.com.
Incidents / Near Misses
Upgrading Reports:The S5 report has been upgraded to display the datatype tree structure coming from dynamic forms.
Upgrading UI: There has been an addition of an extra column to certain client account, in order to see division assigned to a facility, based on incident date.
Upgrading UI: An enhancement has been made to the BPM alert, dispatching an email after a client has recieved confirmation from insurance.
"Supervisor" has been removed as a mandatory field.
KPI / Executive Dashboard
Upgrading UI: Users can now customize colors in bar chart KPIs.
CERTIS / SDS Authoring
Reports: Produced reports are now capable of accomodating subcategories for phrases. The UI will display the parent the phrase falls under.
Upgrading UI: An improvement has been made to the sections tab, on the template and SDS level, enabing the creation and viewing of a subcategory for phrases. The UI displays the parent the phrase falls under.
Training
Viewing Training by Employee Number: Users are now able to view the any training documents associated and attached to a particular training number.
CERTIS Labels / Transportation
New Label report: A label report can now be created to match CLP requirements (Europe).
Translation Automation: The UI has been updated to accomodate additional languages, allowing for the entering of data for transportation in French for example, but linking it to English automation.
Addition of HazChem and HIN: A minor UI change has been made allowing the viewing of HazChem and HIN infomation in relation to selected transportation information.
Tier II
Tier II Details: Users can now add storage container types to the pre-defined list.
Inspection
Adding Tasks: Users can now add storage container types to the pre-defined list.
Compliance
Users can now add tasks on the fly.
Dynamic Reports
Ability to add formulas to Custom Report sources for Dynamic Reports: When developing a Dynamic Report using a custom report source, users can now develop formulas to obtain or convert data in the dynamic report. This functionality was previously available for Dynamic Reports using dynamic forms, and has now been implemented for custom report sources.
Regulatory Updates for May 2017
Canada - Federal Domestic Substances List (DSL)
The Domestic Substance List has been amended by adding the following chemicals:

Your ERA-EMS and reporting functions have already been updated to reflect these changes.