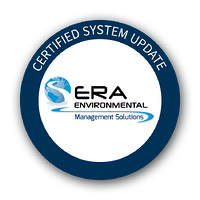 Software Updates for March 2018
ERA Environmental is committed to providing your business with EH&S software that lasts a lifetime. Our team of researchers and scientists work every day to roll out upgrades, new reports, and improvements. Every month we'll publish a summary of these new features here for you. Have any questions about these updates? Let us know at info@era-ehs.com.
CERTIS - SDS Authoring

Added the functionality and option to display a document number within the footer of the M011 (SDS) report.
GHG
New Webpage added for GHG XML report generation (Report itself still in development).
Universal Import
Users can now enter a conversion factor of "each" to the user unit within ALL modules, so the user unit can now look to the Internal ID conversion factor to get the appropriate mass or volume conversion. Records can now be entered manually in usage tables OR through universal import.
Regulatory Updates for March 2018
European Union
REACH – Substances of Very High Concern (SVHC)
Under the EU REACH regulation, substances that are one of the following can be regarded as substances for very high concern (SVHC).
Carcinogenic, mutagenic or toxic to reproduction (CMRs)
Persistent, bio-accumulative and toxic (PBTs)
Very persistent and bio-accumulative (vPvBs)
Seriously and /or irreversibly damaging the environment or human health
Currently, there are 181 substances on the SVHC Candidate List. The Candidate List of Substances of Very High Concern was last updated on the 15th January 2017.
The chemicals below have been added to the REACH SVHC regulation in the Master Chemical List following the update.