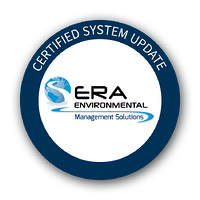 Software Updates for June 2017
ERA Environmental is committed to providing your business with EH&S software that lasts a lifetime. Our team of researchers and scientists work every day to roll out upgrades, new reports, and improvements. Every month we'll publish a summary of these new features here for you. Have any questions about these updates? Let us know at info@era-ehs.com.
Incidents / Near Misses
The Module has been updated to allow automatic insurance claim submissions to GB.
KPI / Executive Dashboard
Automatically assign a new user group to all standard KPIs. Ensures that users have access to default KPIS. .
Sustainability
Addition of BL Objects for combustion and miscellaneous sources.
Training
Added a mass Create button for training.
Users can now automatically assign training based off a training Matrix.
TRI
Improved TRI Processing page so the users can now find the facility for which they want to process a TRI easier.
Ability to create an emission unit that contributes to emissions but is not included in TRI throughput calculations. This is mainly useful for cases where the user has on-site recycling processes where the recycled material needs to be counted for emission calculations but not in TRI throughput calculations.
Dynamic Reports
Users can now link more than one template together for reporting.
Regulatory Updates for June 2017
REACH: Substances of Very High Concern
Under the EU REACH regulation, substances that are one of the following can be regarded as substances for very high concern (SVHC).
Carcinogenic, mutagenic or toxic to reproduction (CMRs)
Persistent, bio-accumulative and toxic (PBTs)
Very persistent and bio-accumulative (vPvBs)
Seriously and /or irreversibly damaging the environment or human health
Currently, there are 173 substances on the SVHC Candidate List. The Candidate List of Substances of Very High Concern was last updated on the 12th February 2017.
The chemicals below have been added to the REACH SVHC regulation in the Master Chemical List following the update.

Your ERA-EMS and reporting functions have already been updated to reflect these changes.