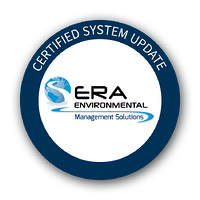 Software Updates for February 2018
ERA Environmental is committed to providing your business with EH&S software that lasts a lifetime. Our team of researchers and scientists work every day to roll out upgrades, new reports, and improvements. Every month we'll publish a summary of these new features here for you. Have any questions about these updates? Let us know at info@era-ehs.com.
CERTIS - Labels

On Labels, if a product is non-hazardous, "No Chemical Found" has been replaced with "No chemical found contributing to a health hazard" in Supplementary Information.
CERTIS - MCL
Obtaining percentage match of Chemical Names when uploading regulation: a significant amount of time is currently being used to 'check' the chemical name (CN) when the MCL flags a CN as a 'New Alternate Name'. This improvement provides the 'Test' import process that will identify similarities between the imported CN to a CN of a CAS currently in the MCL.
Compliance
Reminder setup tab now positioned second.
Inspection
Reminder setup tab now positioned second.
NEI

New warning/validation for Texas NEI. If you try to process a project containing a different year for Annual vs. Ozone season, there is now extra protection added to prevent errors.
Software Admins (Users, Groups)

Password Reset feature: A new option has been added to allow companies to define if and how to prompt password changes. You can contact ERA to learn more and to define rules to prompt password changes periodically and implement rules about if previous passwords can be used.
Tanks

There is a new filter option at the Tank usage page to filter on the comments field.
Tier II

Option to select parent classes when child categories are not known.
Ability to manually select or unselect chemicals below the de minimis threshold to be included or excluded from the XML output.
Regulatory Updates for February 2018
Canadian Domestic Substance List (DSL)
The Domestic Substance List has been amended by adding the following chemicals: