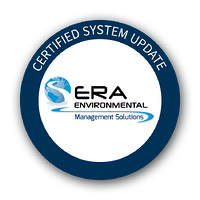 Software Updates for December 2016
ERA Environmental is committed to providing your business with EH&S software that lasts a lifetime. Our team of researchers and scientists work every day to roll out upgrades, new reports, and improvements. Every month we'll publish a summary of these new features here for you. Have any questions about these updates? Let us know at info@era-ehs.com.
KPIs / Executive Dashboard
KPI for Compliance: Users can now attach documents to the Notifications Compliance Widget, located on the Executive Dashboard.
Announcements Widget: Users can now attach documents to the Announcements Widget using the Document Management Module - which will appear in the Announcements section.
Finishing / Coating
New Report - Air Compliance Daily Summary F188: A new report has been designed that will calculate daily and rolling emissions for OCs (Organic Compounds).
Water
Import Improvement: When importing water data a CAS number is no longer required. All the user needs is the parameter name (ie. Flow, Chrome, pH, etc.) and the system will match these to the discharge limits associated with the permit. This reduces the need to populate the CAS column which will help decrease the manual data preparation prior to import.
Training
Improvement in UI - Increase in Character Limit: A new development has been implemented to allow users to utilize a higher-than 50 character limit for training subjects.
SDS Authoring
Improvement in UI: The ability to run classifications per the CLP regulation has been added.

Improvement in UI: Users are now able to select a supplier for a blend at the moment of generation (generating the product SDS for Supplier A, then generating the same product SDS for Supplier B, and the system will consider these two documents unique)
BPM - PSM
Datatype Improvement: The product datatype filter for "Active/Inactive" has been updated for products.

Speed Improvement: BPM template speed of progressing from step to step has been improved.
New Datatype: DocumentListSummary: This datatype will show all documents uploading to Module: Document Management.
New Datatype: TextboxEditor: This datatype allows users to format their answers when out a BP.
Compliance
Interface Improvement: We have added a new feature in compliance that allows us to mark a task as visible or invisible. This is a helpful tool to help organize all tasks in a company. Over the years some tasks no longer apply; these can be made invisible instead of deleting them.
Incidents
Dynamic Import Error Tracking: A new error trapping has been developed for dynamic import, allowing the user to identify the records that cause errors during an incident import.
Vendor Module
A new implementation now permits product import using a flexible template.
This list summarizes the key software updates from December 2016. All details of every update may not be listed. If you want to learn more about how your ERA-EMS modules have been improved, please contact your ERA support expert or email us at info@era-ehs.com
ERA Environmental's regulatory research team ensures that your ERA-EMS is always up to date with with regulatory and software changes. Every month we'll publish any updates here. It's part of our commitment to excellent customer service, environmental reporting expertise, and protecting your business. Have any questions about these updates? Let us know at info@era-ehs.com.
Regulatory Updates for December 2016
European Union Regulations
REACH – Substances of Very High Concern (SVHC)
Under the EU REACH regulations, substances that are one of the following can be regarded as Substances of Very High Concern (SVHC).
Carcinogenic, Mutagenic or Toxic to Reproduction (CMRs)

Persistent, Bio-accumulative and Toxic (PBTs)

Very Persistent and Bio-accumulative (vPvBs)

Seriously and /or irreversibly damaging the environment or human health
Currently, there are 169 substances on the SVHC Candidate List. The Candidate List of Substances of Very High Concern was last updated on the 20th June 2016.
The chemical below has been added to the REACH SVHC regulation in the Master Chemical List following the update.

Your ERA-EMS and reporting functions have already been updated to reflect these changes.