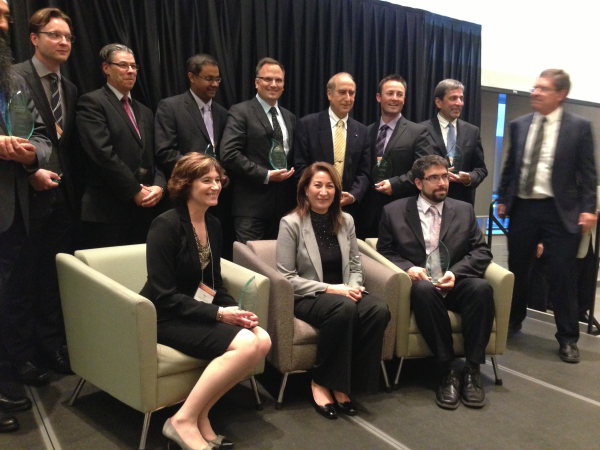 Sarah Sajedi (centre) wins the Sara Kirke Award for Innovation and Entrepreneurship
ERA's CEO Sarah Sajedi has been honored with the Sara Kirke award recognizing her achievements in creating an innovative world-class technology product and for being a role model for women entrepreneurs across Canada.
The award was presented to Sarah Wednesday night, May 29, at a gala by the Canadian Women in Technology group (CanWIT) and the Canadian Advanced Technology Alliance groups.
CanWIT awards the Sara Kirke award to one woman each year who has demonstrated consistent and superior innovation and leadership skills, including the creation of a world-class technology product that helps to put Canadian entrepreneurs on the map. Sarah was nominated due to her corporate leadership, dedication to excellent customer service, and for striving to make a difference for other women in the environmental and software industries.
After accepting the award, Sarah was asked to share the secret to her success. With CATA she recorded a short video of her insights and experiences which we'll share with you later here, so stay tuned.
Congratulations on winning another impressive award Sarah! The entire ERA team is proud of you!