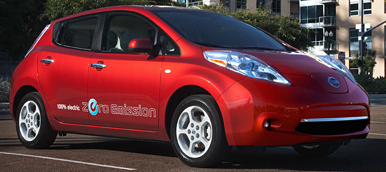 Nissan, maker of the world's first 100% electric, zero-emissions car, has implemented ERA's Environmental Management System at its Smyrna and Decherd plants.
Sustainability has always been a hallmark of Nissan's business. As an environmental leader, it has dedicated itself to Zero Emission technologies (including electric vehicles, clean diesels, and hybrids) and environmental responsible manufacturing:
"Another important trend is the growing demand for a cleaner environment. Automakers are accelerating the development of products to offer greater fuel efficiency and fewer CO2 emissions, from more efficient gasoline-fueled engines to hybrids, clean diesel, electric vehicles and fuel cell vehicles." – Carlos Ghosn, President and CEO - Nissan
Nissan will now take this same level of innovation to its environmental reporting and emissions management with ERA's Software.
We are delighted to be working with another cutting edge automotive manufacturer and to be providing the industry's best environmental performance management tools.