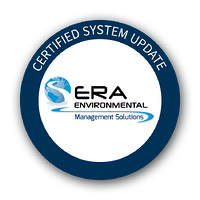 Software Updates for April 2017
ERA Environmental is committed to providing your business with EH&S software that lasts a lifetime. Our team of researchers and scientists work every day to roll out upgrades, new reports, and improvements. Every month we'll publish a summary of these new features here for you. Have any questions about these updates? Let us know at info@era-ehs.com.
User Settings / Preferences
Improvements regarding Password Settings: Users now have the ability to reset their passwords using two methods, either using the feature in Admin > User Settings > Preferences, or through using the "Forgot Your Password?" link on the ERA-EHS login page.
Incidents / Near Misses
Upgrading Reports: Report S4 has been upgraded to display the address information of the employee, even if this is not the default setting.
Upgrading UI: A new graphical panel has been added to Dynamic Forms, which will help users better view the process flow.
Upgrading UI: A new copy value has been added to facilitate connectivity between "facility" and "job".
Upgrading UI: Employee "Add on the Fly" options has been upgraded, with the user being provided with a new filtering option for the supervisor.
Chemical Coating
Improvement to the Product Upload: The product upload UI has been improved, now enabling the user to match the missing supplier IDs on the Product Upload, to the existing Supplier List in the ERA system. This feature will be useful in cases where the same supplier company has different naming conventions, with differing variants.

NPRI
Report UI: The selected processes for processing an NPRI report is now saved at the project level. This enables the user to re-process the report if need be without having to go through the source selection step again.

Tier II
Improvement to Tier II Processing: When processing Tier II by usage, the sources selected are now retained in the project if the user ever needs to review or reprocess.
Application Administration
Display Change: In the "Alerts and Notifications" settings, a tab has been re-titled from "Column" to "Questions".
Option to Exclude Users: In the "Alerts and Notifications" settings, users and groups can now be selected to receive notifications and alerts. However, once a group is selected, there was an issue of not being able to exempt certain people other than individually searching for them and removing them. Now, an exemption box has been installed.
Addition of email HTML options: If email type is HTML, the user is now able to text format the subject and body of the email, thus allowing emails to be customized (bold text, highlighting, etc).
Tanks
Warning Message: Users can now implement a general warning message for Tanks and consolidate them in one place.
BPM
New Process Flow Chart: This new feature is found every time a new process is added or opened. The chart will show the steps of the process the user is assigned to, and it displays three different colors, blue, green and brown. The blue indicates the current step, brown is pending, and green is completed. When hovering the cursor over the arrow of each stop, all forms in that step will be visible. Clicking on the text of each step will go to that step.
NEI
New CSB for KDHE: Creation of a new CSV to be submitted electronically.
Creating one report for NC: Consolidation of six reports into just one report.
Dynamic Reports
Report Date Display: The report date display is now functional in dynamic forms. The reports will display the dates according to user preferences.
Formula Improvements: Formulas can now be applied to Custom Reports when building Dynamic Reports.
New Data Type: The float data type was added in the formula field to better display significant figures / decimal values in reports.
Finishing
Error Trapping: Better error trapping messages have been included in KPI graphs.
Cost Center improvements: New functionality has been added to match application system groups to the cost center.
Application System: User specific functions have been made to edit the application system for the Batch function.
KPIs
Graph Colors: Users now have control over which colors to include in KPI charts.
Regulatory Updates for April 2017
Canada - Federal
Domestic Substances List (DSL)
The Domestic Substance List has been amended by adding the following chemicals: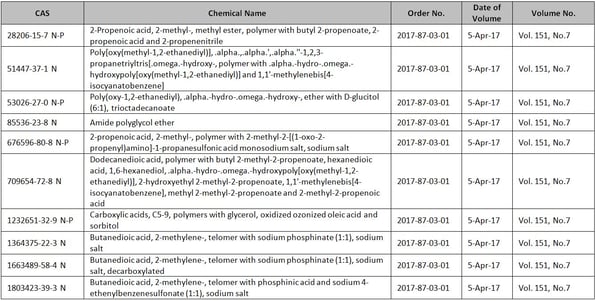 Non-Domestic Substances List (NDSL)
The Non Domestic Substance List has been amended by removing the following chemicals:

Your ERA-EMS and reporting functions have already been updated to reflect these changes.