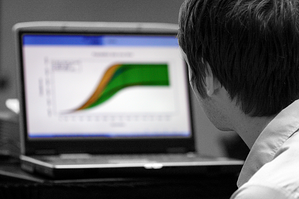 There's a debate taking place at this very moment amongst some of the world's largest and most influential manufacturers about the most effective way to measure and track corporate sustainability programs. Many models already use sustainability metrics, and manufacturers are now in the process of evaluating and testing them to determine which system will come out on top.
Certain industries have already gone through, or are currently experimenting with a standardized model of sustainability tracking.
For example, the education industry is using STARS (Sustainability Tracking, Assessment & Rating System) health care has its own Green Guide standards, and the coffee industry is implementing START (Sustainability Tracking and Reporting Tool). Even the enormous automotive industry, a subsector of manufacturing, is trying to make the GADSL (Global Automotive Declarable Substance List) an industry reporting standard for sustainable chemical management.
But because of the size and diversity of the manufacturing industry, it is no small task to develop and perfect a system for global sustainability tracking. That doesn't mean people aren't trying however.
One of the frontrunners in the sustainability tracking and metrics debate is the Global Reporting Initiative (GRI) -- a comprehensive set of sustainability indicators that can be used to create in-depth and economically useful sustainability reports.
The GRI Metrics under the Spotlight
The GRI model addresses a large spectrum of sustainability metrics that range from basic measurements to advanced sustainability tracking. It covers everything a business would ever need to measure its sustainability progress.
For example, it covers the essential data like carbon footprint and workplace safety, as well as some of the more intensive metrics like local biodiversity, human right contributions, working with local suppliers, and training tracking. That's the kind of data you can't just plug into a simple spreadsheet.
GRI can also be applied to any type of business, from large to small, in any industry. As a completely voluntary standard, what you choose to include in your GRI report can be tweaked to fit your needs. Just remember that the more you include the stronger your report and the results will be. Plus, if manufacturers do ultimately adopt the GRI method of sustainability tracking, you'll already have experience using the complete system.
What to Take Away From the Sustainability Tracking Debate
There are two important takeaways from the whole sustainable manufacturing debate: first, that sustainability is, more than ever, a vital part of running a successful business; and secondly that there's a growing demand for a standardized method of approaching sustainability.
This growing interest in standardization will require your business to work closely with your competitors, allies, and all those other sectors you never thought you would share a common goal with.
The length and intensity of the sustainability methodology debate is proof that sustainable development and manufacturing is not simply a fad that will fade out in a few years.
This probably comes as no surprise to our readers, but practices like environmentally preferable purchasing and pre-emptive supply chain assessments will soon be standard practices across every industry. Manufacturing is a large and lucrative enough industry that it has been leading the way for most global sustainability trends, and once it adopts a standardized methodology, nearly every other business and institution will follow suit.
This quest to find a standardized system for sustainability tracking also demonstrates that there's a demand for an industry-wide method that produces reports that can be shared and benchmarked.
As sustainability tracking becomes more standardized, transparency about your performance, outputs, emissions, and investments will also increase. The arena for business success is about to change dramatically once sustainability tracking becomes a standard practice - so prepare yourself now.